Time Magazine told PM Narendra Modi 'India's Divider In Chief'
America's well-known journal TIME has covered story on India's Prime Minister Narendra Modi for his latest May issue. There is an illustrated picture of Narendra Modi on the cover of Magazine, along with the written 'India's Divider In Chief'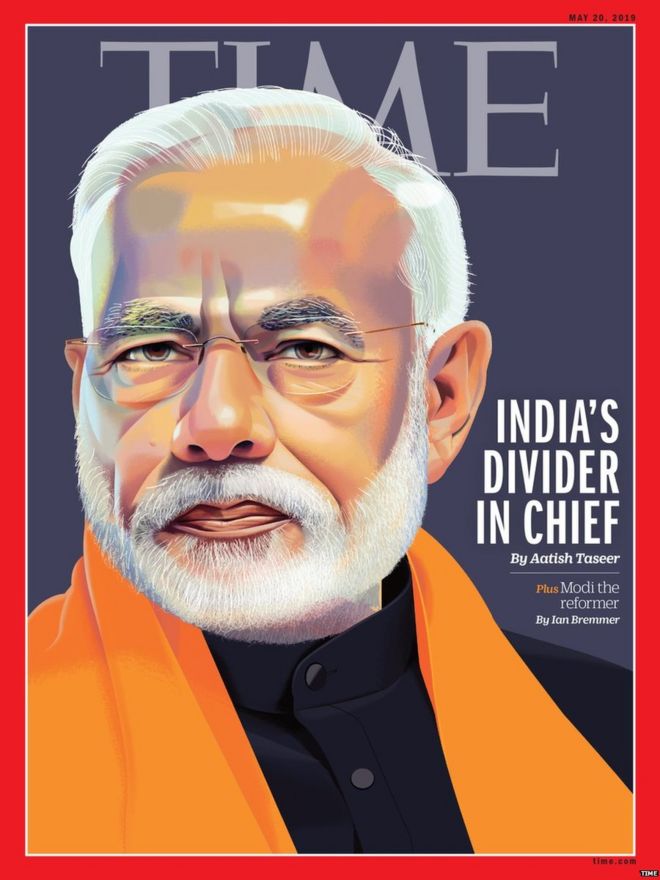 TIME Magazine has given a teaser while tweeting the cover page ... "New International Cover of Times: Can the world's largest democracy afford the Modi government to come and the next five years?"
Although the magazine is not available in the market anymore. These magazines covered by Prime Minister Narendra Modi will be released on May 20, 2019.
Polling for the last phase of Lok Sabha Elections 2019 is on May 19 and the results of the election are due on May 23.
What is written in this cover story of Magazine?
The Story of the TIME website has been published in which Prime Minister Narendra Modi's Gujarat Chief Minister is about becoming the Prime Minister of the country. His victory in 2014 is said to be the biggest victory in 30 years and after that his five-year term is mentioned.
But the controversy about this referring and the manner in which the word on Modi has been described as 'India's Divider In Chief' has arisen. And this cover page is trending in India.
However, in May 2015, Time Magazine had a cover story on Modi and named it "Why Modi Matters"
There is a lot of talk about this cover page on social media.
On the one hand, while some people say that the magazine is written perfectly, some people are also looking at adding this to Modi's popularity.
Thakur Amisha Singh writes, "All the world has lost their hands behind a Modi. The ballot is clear not only in the bandage, but also the power to paint the whole world behind it."
Ashish is a British-born writer and journalist. He is the son of Indian journalist Tavleen Singh.
Let us tell you that this is the same time magazine which, in 2016, Prime Minister Narendra Modi was selected under the Readers' Poll Person of the Year 2016.
Modi was in first place with 18%. After that was the name of US President Barack of that time.